CWA Uses Districts to Identify Regions Where Printers Are Located
To Find Your District Use the Drop Down Menu Below
On the map districts are shown in the following colors:
District 1 is in purple
District 2-13 is in blue
District 3 is in teal
District 4 is in red
District 6 is in brown
District 7 is in yellow
District 9 is in green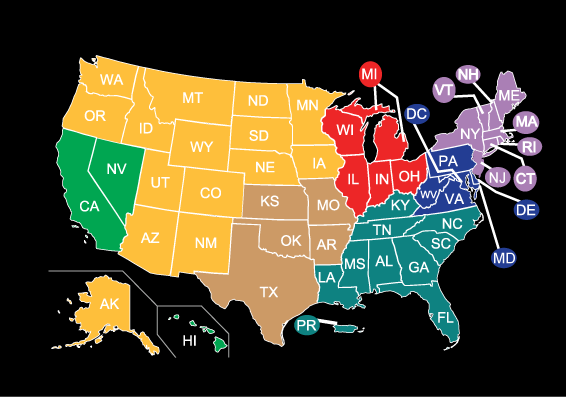 Participating Printers
Below is a directory of our verified CWA-PPMWS union printers. You can use our handy form to contact all the printers in your area or, you can send individual emails to a printer using the email form in their listings.
Click here to fill out our handy form to request a quote from multiple printers in your area.
If you are a CWA-PPMWS Licensed printer listed in our directory you can claim your listing by registering with our site. Once approved, you will be able to edit your listing in the directory. In order to edit your directory entry, you must register using the same email address as your listing.
If you have any questions, feel free to send us an email using our contact us tab at the top of the page.
You can email a printer directly by clicking on the company name.
Biography
In October of 1987, Scott McNiff, just two years out of high school, borrowed enough money from his parents to rent a 200 square foot room in the back of a stationery store. This tiny room featured a single color press, an outlawed carbon arc platemaker and a table top friction fed folder. The shop had no heat and no air conditioning. He had three small customers on the books. His paper inventory consisted of two cases of copier paper.
Sixteen years later, we have taken over the entire lower level of our building, increasing our production space by 26 times to 5,200 square feet. We have a fleet of multi-color presses, full bindery and a state of the art pre-press department. Our client roster exceeds 750, from the local "mom & pops" to fortune 100 companies, our paper inventory is always in excess of one million sheets in every style imaginable. We produce hundreds of thousands of printed sheets every week. We are very proud of our success and never forget our humble beginning. Our hard work and commitment to our customers has made us one of the most respected companies in the printing industry today.
(And yes, we now have heat and air conditioning.)