CWA Uses Districts to Identify Regions Where Printers Are Located
To Find Your District Use the Drop Down Menu Below
On the map districts are shown in the following colors:
District 1 is in purple
District 2-13 is in blue
District 3 is in teal
District 4 is in red
District 6 is in brown
District 7 is in yellow
District 9 is in green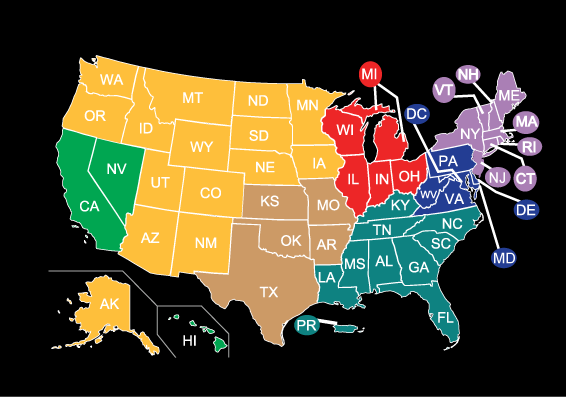 Participating Printers
Below is a directory of our verified CWA union printers. You can use our form to contact all the printers in your area or, you can send individual emails to a printer using the email form in their listings.
If you are a CWA Licensed printer listed in our directory, you can claim your listing by registering with our site. Once approved, you will be able to edit your listing in the directory (you must register with the same email address as your listing). If you have any questions, send us an email.
You can email a printer directly by clicking on the company name.
Biography
Royal Printing – 29 Years & Counting
Royal Printing is about people. Beginning with our customers, who are the heart of our business. We believe there is a solution to every problem and that if we don't already know what it is, we'll find it for you. And if the customers are the heart of Royal Printing, our employees are the blood, sweat and soul. They've seen it before. They've done it before. And while printing is serious business, man is it fun.
A Brief History
John and Mike Morrello started Royal Printing in April of 1989 with nothing more than a two color press, their friends to help get things done and the will to make things happen. Over the next few years, we added equipment, moved a couple of times and became one of the premier shops in Southern Nevada.
Now firmly established just west of the famed Las Vegas Strip, we are proud to call our customers friends and our employees family (and in some cases, that's a literal designation!) Most of our employees have been with us for more than 10 years and those who've come aboard more recently have discovered that the grass is greener on our side of the hill.
John and Mike continue to run the shop and the company with the same determination and pride that got them off the ground more than 25 years ago and we have customers across the country and the world who can testify to that. 2016 brings with it new growth that includes expanded capabilities and a sales office in Texas.
From short-run digital projects to high quality offset work, Royal Printing is committed to putting your experience front and center as we bring that glimmer in your eye to fruition.
Our second quarter-century promises to be as exciting as the first one!
Notes
CWA Union Label #777
Las Vegas Tyop #933 – CWA 14922