CWA Uses Districts to Identify Regions Where Printers Are Located
To Find Your District Use the Drop Down Menu Below
On the map districts are shown in the following colors:
District 1 is in purple
District 2-13 is in blue
District 3 is in teal
District 4 is in red
District 6 is in brown
District 7 is in yellow
District 9 is in green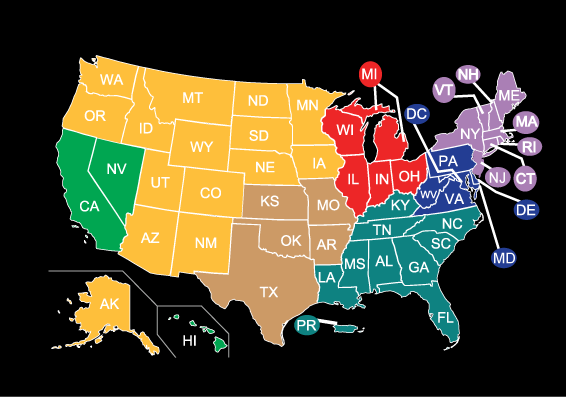 Participating Printers
Below is a directory of our verified CWA union printers. You can use our form to contact all the printers in your area or, you can send individual emails to a printer using the email form in their listings.
If you are a CWA Licensed printer listed in our directory, you can claim your listing by registering with our site. Once approved, you will be able to edit your listing in the directory (you must register with the same email address as your listing). If you have any questions, send us an email.
You can email a printer directly by clicking on the company name.
Biography
Never Late Printing
Our continual growth is a direct reflection of our dedication to our customers. When we make a promise, we deliver on it. Whether it's a one time print job or a business to business relationship, we continue to out preform in timeliness and print quality against our competitors.
Our quick turnaround time and personal attention to every detail of our clients work enables us to grow everyday. We've grown from the local print shop in Las Vegas to the National Level shipping & processing orders, especially for convention exhibitors.
Convention Services
At Never Late Printing, we are available to you around the clock (we monitor phones and e-mail 24/7). We print last minute jobs, small quantity orders, and deliveror or ship, to support you in having a great show in Las Vegas or anywhere in the nation.
Las Vegas Conventions
We are strategically located 3-5 minutes away from the strip, or as we like to call it, The Convention Capitol of the World.
This allows us to personally deliver orders to our customers whether its the convention or their hotel they're staying in. Our convention customers rest easy, knowing that no matter what, they'll have materials ready to go for their show.
National Conventions
As our customers exhibit around the nation, we're with them every step of the way. Our exhibitor service at the national level provides our customers the opportunity for speedy fast quality printing shipped to any location of our their choosing. We regularly inform our convention customers around the nation of deals and specials catered to them.
Contact Information
E-mail anytime, day or night
Info@neverlateprinting.com   Call Us
702.248.9777 and we can discuss your printing requirements.
Notes
Label #18