CWA Uses Districts to Identify Regions Where Printers Are Located
To Find Your District Use the Drop Down Menu Below
On the map districts are shown in the following colors:
District 1 is in purple
District 2-13 is in blue
District 3 is in teal
District 4 is in red
District 6 is in brown
District 7 is in yellow
District 9 is in green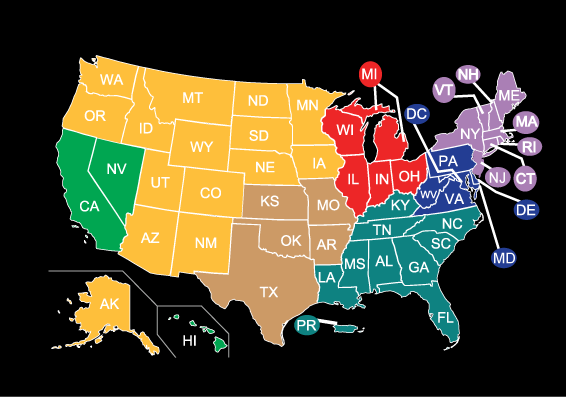 Participating Printers
Below is a directory of our verified CWA union printers. You can use our form to contact all the printers in your area or, you can send individual emails to a printer using the email form in their listings.
If you are a CWA Licensed printer listed in our directory, you can claim your listing by registering with our site. Once approved, you will be able to edit your listing in the directory (you must register with the same email address as your listing). If you have any questions, send us an email.
You can email a printer directly by clicking on the company name.
Biography
WELCOME TO PDQ PRINTING
of Las Vegas, Nevada
---
We are proud to be your comprehensive print solutions provider since 1981. Located in Nevada just one block from the Las Vegas Strip, we service convention centers, hotels, and businesses throughout the valley with delivery. We can also ship to your desired location, anywhere in the world.
Our mission is to provide our clients with a full range of products backed by our famous brand of exceptional service. PDQ is the full service Las Vegas printing company you have been searching for. When you're looking for printers in Las Vegas, or Nevada and beyond, choose the best — PDQ Printing!
Your preeminent source for all things print!