CWA Uses Districts to Identify Regions Where Printers Are Located
To Find Your District Use the Drop Down Menu Below
On the map districts are shown in the following colors:
District 1 is in purple
District 2-13 is in blue
District 3 is in teal
District 4 is in red
District 6 is in brown
District 7 is in yellow
District 9 is in green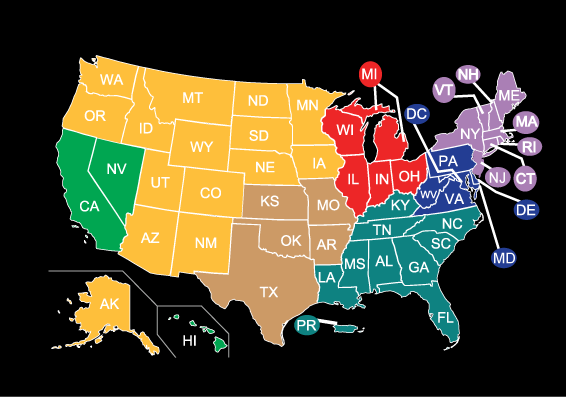 Participating Printers
Below is a directory of our verified CWA-PPMWS union printers. You can use our handy form to contact all the printers in your area or, you can send individual emails to a printer using the email form in their listings.
Click here to fill out our handy form to request a quote from multiple printers in your area.
If you are a CWA-PPMWS Licensed printer listed in our directory you can claim your listing by registering with our site. Once approved, you will be able to edit your listing in the directory. In order to edit your directory entry, you must register using the same email address as your listing.
If you have any questions, feel free to send us an email using our contact us tab at the top of the page.
You can email a printer directly by clicking on the company name.
Biography
ABOUT US
Baxter Printing is a family owned and operated union print shop that has been providing quality printing to the region for over 55 years. The Turoci family continues to pride themselves in service, not only to their customers, but also to their community.
We provide our quality design and printing services in the Northwest Indiana area and are here to help you make your mark. Our extensive printing knowledge, along with our commitment to our valued customers, keep us at the forefront of the industry. With an experienced team that can handle many different types of projects, we've continued to grow with the advancement of new technology and the needs of our customers.