CWA Uses Districts to Identify Regions Where Printers Are Located
To Find Your District Use the Drop Down Menu Below
On the map districts are shown in the following colors:
District 1 is in purple
District 2-13 is in blue
District 3 is in teal
District 4 is in red
District 6 is in brown
District 7 is in yellow
District 9 is in green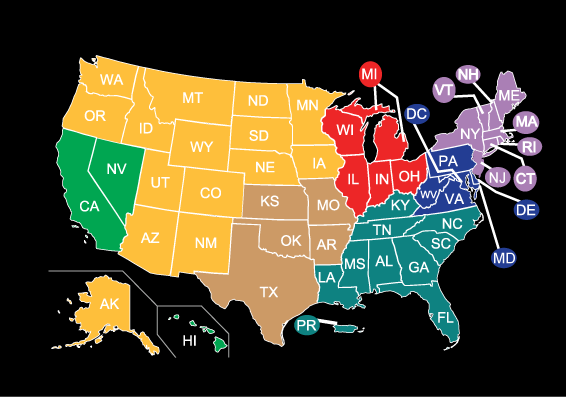 Participating Printers
Below is a directory of our verified CWA union printers. You can use our form to contact all the printers in your area or, you can send individual emails to a printer using the email form in their listings.
If you are a CWA Licensed printer listed in our directory, you can claim your listing by registering with our site. Once approved, you will be able to edit your listing in the directory (you must register with the same email address as your listing). If you have any questions, send us an email.
You can email a printer directly by clicking on the company name.
Biography
Artkore Printing & Signs has been providing full signs and printing services to satisfied customers for over 12 years.
We use the latest technology and higher quality products to produce custom signs for your business. We can make the perfect signs to advertise your products or to inform your customers, while keeping the image of your company in mind.
By full service, we mean that we are partners with you on your project, and committed to your success.
Whether you want to promote your products and services, improve your communication image, increase brand awareness, or simply make a statement, experienced well trained professionals at Artkore Priting & Signs can assist from concept, to design to installation.