CWA Uses Districts to Identify Regions Where Printers Are Located
To Find Your District Use the Drop Down Menu Below
On the map districts are shown in the following colors:
District 1 is in purple
District 2-13 is in blue
District 3 is in teal
District 4 is in red
District 6 is in brown
District 7 is in yellow
District 9 is in green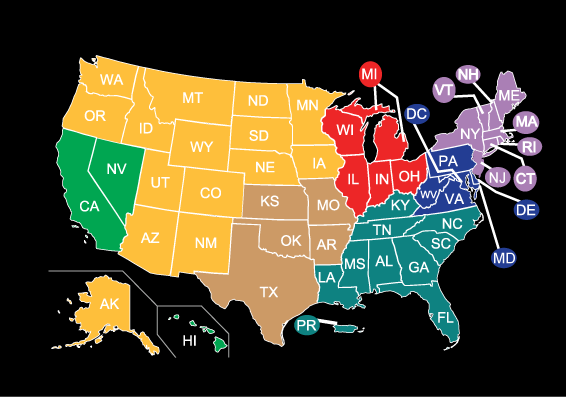 Specialty Printers
Below is a directory of our verified CWA-PPMWS union specialty printers. Specialty printers are not printers but graphic designers and website designers that carry the PPMWS "bug" and can provide you with quality graphic design services.
You can use our handy form to contact these designers or you can send individual emails to a company using the email form in their listings.
You can email a printer directly by clicking on the company name.
Biography
Kenefick Communications is a full-service public relations and communications firm serving unions and union-affiliated enterprises almost exclusively.
Over the years, Kenefick Communications has worked with many organizations—non-profit, for profit, financial institutions, government, political, retail and labor unions—to boost their business or spread their message.
Through the strategic use of newsletters, brochures, advertising, mass mailings, videos, websites, multi-media, white papers, or books Kenefick Communications has been able to meet the needs of a very diverse clientele.
The firm's principals are Tara Landis and Lisa Gebbia.
Tara Landis holds an MA degree in Publication Design from the University of Baltimore, where she received the Agora Publishing Award for best traditional print media. She also holds a BS in communications from Towson University. She serves as art director for Kenefick Communications.
Lisa Gebbia holds a Bachelor's Degree in English from Towson University. She has worked in public relations for over ten years and also as an English teacher.
For more information on how we can assist you with your next project call 410-263-7134 or e-mail: info@kenefickcommunications.com.
Notes
A full-service public relations and graphic design firm.