CWA Uses Districts to Identify Regions Where Printers Are Located
To Find Your District Use the Drop Down Menu Below
On the map districts are shown in the following colors:
District 1 is in purple
District 2-13 is in blue
District 3 is in teal
District 4 is in red
District 6 is in brown
District 7 is in yellow
District 9 is in green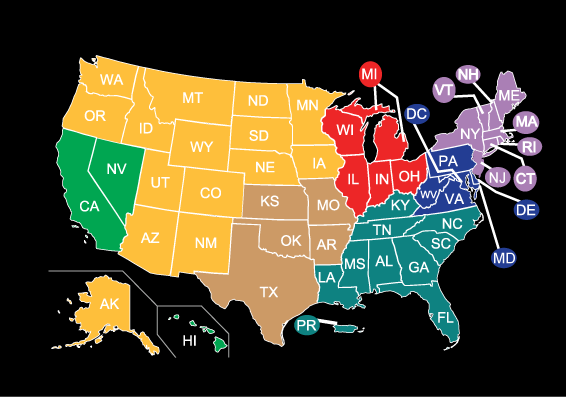 Participating Printers
Below is a directory of our verified CWA union printers. You can use our form to contact all the printers in your area or, you can send individual emails to a printer using the email form in their listings.
If you are a CWA Licensed printer listed in our directory, you can claim your listing by registering with our site. Once approved, you will be able to edit your listing in the directory (you must register with the same email address as your listing). If you have any questions, send us an email.
You can email a printer directly by clicking on the company name.
Work
7138 Transit Road
Williamsville
NY
14221
work
Work Phone
:
716-634-2585
work
Biography
It all started in Hornell, NY where I was born and raised.  My family owned Maple City Printing Co. where I worked with my parents and learned the printing business. A few years later I expanded the company by adding signs and banners.  As the business there declined, I decided to leave Hornell and moved to the Buffalo area in 1997.  I  purchased a printing company that was out of business on Central Ave. in Lancaster, NY and started Pyramid Printing + Signs & Banners.  Two years later, I updated the name to Grafix 1, moving to Walden Avenue in Depew.  Ever changing, in June of 2004 I expanded 3G Printing & Signs located on Main Street in Williamsville, NY where the business grew out of the space in March of 2010 and we are now located at 7138 Transit Road Williamsville, NY.
3G = Three Generations in Business